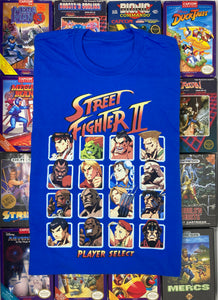 "It's here. The next round in the most successful video game series of the decade – Super Street Fighter II. More characters. More moves. More of the proven CAPCOM profit formula. Kits are available now.
4 NEW FIGHTERS: Dee Jay, Cammy, T. Hawk and Fei Long, each with all-new moves that players can't wait to master. 4 new countries: Jamaica, England, Mexico, and China. New backgrounds and graphics that enhance every match. And new scoring bonuses that reward players for learning every move.
ALL 12 CHAMPION FIGHTERS ARE BACK.
More moves and combos knock out earnings like never before. Your customers know it's here, and they're ready to fight. Call your CAPCOM distributor or CAPCOM at 408-727-0400 now. Before the next guy beats you to it.
MORE PROFIT ACTION.
Cammy keeps 'em fighting with her might thrust kick.
Players better beware of Dee Jay's awesome arsenal of kickboxing techniques.
Fei Long and T. Hawk: two new challengers who really have what it takes!
THEY'LL STAY 'TIL CLOSING TIME TO LEARN ALL THE NEW MOVES.
Whether it's an original world warrior, or a new challenger, all 16 Super Street Fighters are packed with enough new moves to keep your best players busy.
A FULL FIGHTING CARD.
136 Possible Fights – 58 Never Seen Before
Four New Countries for all new battlegrounds
CAPCOM's exclusive Q-Sound Virtual Audio
All new music and sound effects
New expandable hardware
16 Fighters in all
 NOW AVAILABLE: THE ULTIMATE CHALLENGE EDITION
For the first time ever! 4 Super Street Fighter II cabinets specifically configured for 8-player "tournament style" competition.
ORDER SUPER STREET FIGHTER II THE NEW CHALLENGERS, THE NEXT ROUND IN THE MOST SUCCESSFUL VIDEO GAME SERIES OF THE DECADE. CALL YOUR CAPCOM DISTRIBUTOR OR CAPCOM AT (408) 727-0400 NOW." (Super Street Fighter II, Arcade Flyer, 1993)