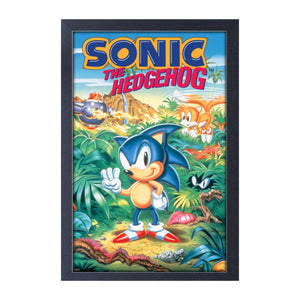 Design inspired by 1994's Sonic The Hedgehog 3. 
13 x 19 inch MDF frame displays this gorgeous 11 x 17 inch piece of art.
Textured, sparkling finish for added beauty and protection.
Framed and ready to hang.
Sonic the Hedgehog, front and center in this classic Sonic the Hedgehog 3 Framed Art Print. And if you look closely, you just might find some other friends of yours! Inspired by Sonic the Hedgehog 3, the 1994 platform game developed and published by Sega, it features a textured "movie screen" finish applied to the surface.