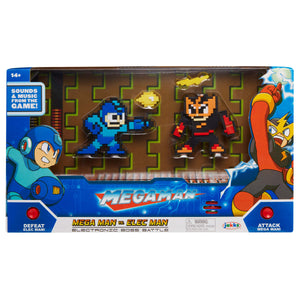 **LIMIT ONE PER CUSTOMER!** Due to the limited availability of this item, orders above one will be cancelled.
Includes two mini-figures:  8 bit Mega Man and Elec Man with weapon effects
Join the battle with sounds and music from the original game
Press the buttons under Mega Man and Elec Man to start the music and fire their weapons. The first to deplete their opponents energy reserves wins in this repayable electronic boss battle.
Racing to disrupt the plans Dr. Wily has set into motion, Mega Man navigates a maze of shocking obstacles before confronting Elec Man!