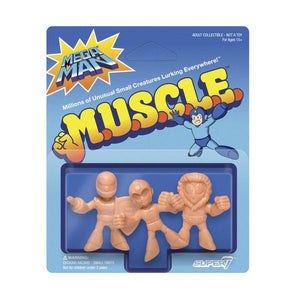 Pack A: Mega Man, Ice Man, Sniper Joe
1.75 inches
Flexible figures
Blister carded packaging
Retro graphics and styling
From the original game! The Blue Bomber is back - in the flesh, as it were - with these retro mini-figures. The set of Mega Man and his enemies are here as era-appropriate plastic 1 1/2-inch M.U.S.C.L.E. mini-figures. Each 3-pack is individually packaged on a retro card, just like you remember from the original tiny wrestling toys. Relive your days screaming at the TV in your parents' living room as Dr. Wily's creations hand your butt to you on a regular basis. Ages 15 and up. Set includes Mega Man, Ice Man, and Sniper Joe.