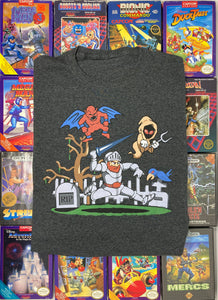 "The princess of a certain peaceful country is abducted by a messenger from Hades and a knight who loves the princess leaves for Hades to rescue her.
However, to rescue the princess, the knight must pass through six gates guarded by Satan's generals to reach Hades.
Of course there are also demons that attack the knight between the six gates. The knight has five kinds of weapons which he uses skillfully to destroy the attacking demons and advanced into Hades.
The knight needs your help to rescue the princess and escape from Hades so test your skill!" (Ghosts 'N Goblins, Arcade Flyer, 1988)