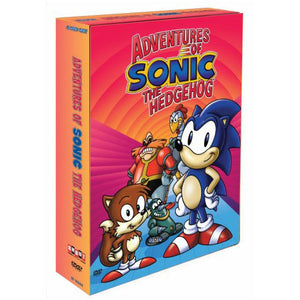 Certified authentic as a new, vintage product.
Manufactured in 2007.
1993's Adventures of Sonic the Hedgehog Volume 1 is the first of three DVD box sets that cover the entire series of Adventures of Sonic the Hedgehog. This Box set is produced by DiC Entertainment and Shout! Factory and was released on 17 July 2007. It contains four discs with five/six episodes on each. In all, this volume covers the first 22 episodes of the show in original production order.

Disc 1

"Super Special Sonic Search & Smash Squad"
"Subterranean Sonic"
"Lovesick Sonic"
"Slowwww Going"
"High Stakes Sonic"
Disc 2

"Sonic Breakout"
"Trail of the Missing Tails"
"Close Encounter of the Sonic Kind"
"Momma Robotnik's Birthday"
"Big Daddy"
"Sonic's Song"
Disc 3

"Birth of a Salesman"
"Best Hedgehog"
"The Robotnik Express"
"Too Tall Tails"
"Tails' New Home"
"Over the Hill Hero"
Disc 4

"Blank-Headed Eagle"
"The Mystery of the Missing Hi-tops"
"So Long Sucker"
"Sonic Gets Thrashed"
"Pseudo Sonic"
Bonus Features:

Conversation with artist Milton Knight
How-to-Draw: Sonic the Hedgehog